Running on Java 16-ea+22-1329 (Preview)
Home of
The
JavaSpecialists' Newsletter
Helping Make Better Java and Making Java Better...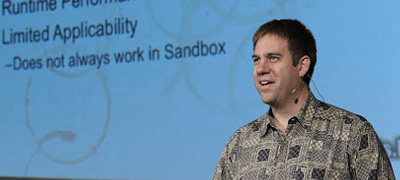 Java Champion, author of the Java Specialists Newsletter, conference speaking regular... About Heinz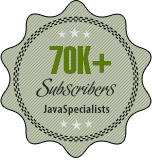 The JavaSpecialist Newsletter: Celebrating
19

years of publication, enjoyed in over

150

countries by

70,000

of the world's top Java programmers and spanning over

300

specialist Java articles.
Subscribe to
The JavaSpecialists' Newsletter

and you'll get; Every new issue, our Best 10 articles ever, exclusive invites to live webinars, access to expert tutorials...and more!
---
Subscribers...
"Just when I thought I knew Java I read Dr. Heinz's Java Specialists Newsletter and I realize how far I have to go!" Victor Grazi

"...Not for the uninitiated, I find something useful in every issue." Bruce Eckel, "Thinking in Java"

"Your must-read resource for the frequent surprising low-level JDK internal details." Lukas Eder

"Heinz's newsletter is the Java version of the classic Sunday Times crossword puzzle that demands attention and time, because no matter your level, you will always get something from it." Alan Williamson
Java Training
We deliver relevant courses, by top Java developers to produce more resourceful and efficient programmers within their organisations.
Java Consulting
We can help make your Java application run faster and trouble-shoot concurrency and performance bugs...